Pre-deployment Safety and Security Training weekend September 2018
After a really enjoyable (and unusually dry) weekend's training, DART is delighted to welcome new Disaster Arborist Response Team volunteers Rob Barnaby, Matt Bate, Max Burch, Glen Bushnell, Fynn Coe, Max Coulton, Shaun Ferreday, Jon Kerr, Geoff Loker, Benjamin Paul, Chris Smart, Jon Sowden, Sam Walbridge, Andy Walker and Matt William's. Thank you all for volunteering your service. It's great to have you on the team.
Pre-deployment Safety and Security Training weekend June 2017
DART have welcomed 12 new response volunteers following a damp and blustery, but well received and enjoyable Safety and Security training course. Our thanks to those volunteers who travelled from all over the UK to help facilitate the training and a very warm welcome to our new responders Sam Oldham, Troy Elliott, Marc Hessey, Jon Megson, Richard Gutteridge, Dave Uden, Nichol Scott, Tim Crauford, Matt & Jenny Long, Dave Read, Andy Bakere and Tony Lucas.
Pre-deployment Safety and Security training weekend April 2015
Professional Arborists from all over the country, some as far away as Cumbria, travelled to Cornwall last weekend to volunteer for disaster relief work with DART International UK by completing the charity's mandatory pre-deployment safety and security training.
Overseas aid work is becoming increasingly risky and the official UN statistics make sobering reading.  Many of those events are directly attributable to aid agencies operating in hostile environments like Iraq, Afghanistan, Syria and parts of Africa.  DART International do not operate in conflict zones, but we recognise that we are taking a profession that is by its very nature demanding and risky even when conducted here at home and transferring it to a post disaster environment with additional and often unfamiliar operational challenges.  Our training aims to make our volunteers aware of the risks, so that they can make a more informed decision about whether or not they wish to support the charities work overseas.  Where possible, we aim to mitigate the risks by raising awareness, conducting practical training and taking the appropriate precautions.  Our training syllabus follows guidelines promoted by the Humanitarian Practice Network and adopted by major international aid agencies, including the International Red Cross, Save the Children and many others.
One of our primary training objectives, for example, is to raise our collective first aid and trauma management skills, recognising that when operating in a disaster relief context help from medical professionals might be less timely than we would hope for if we have an accident in the UK.  All of our arborist volunteers are first aid trained in accordance with industry standards, but we're fortunate to have people with the skills to raise our trauma management skills still higher, including a practising paramedic, a former health care professional, expedition first aiders and military trained combat medics.
Our own DART volunteers were joined on the course by representatives of the Bristol based, specialist urban Search and Rescue organisation – SARAID.  The reactive nature of disaster relief operations was clearly demonstrated on Saturday when news came in of the tragic events in Nepal and our friends from SARAID made their apologies and a hasty departure.  By the time our course finished on Sunday afternoon, the SARAID team were well on their way to Kathmandu!  Our thoughts are with them in what will undoubtedly be a very challenging mission and look forward to their safe return.
In the meantime, we warmly welcome our latest trained responders to DART International UK:  Huenuman Coloma, Richard Dixie, James Enticknap-Green, Richard Hunter, Simon Grindrod, Benjamin Inker, Paul Jenks, Sam Martin, Sam Turner, and Jack Willett.  Thank you all for your enthusiasm and commitment to the charity and your positive contribution to the course.  We very much look forward to working with you in the future.
Pre-deployment Safety and Security training weekend July 2014
In response to the interest in supporting DART International UK, we invited some potential responders to participate in a pre-deployment training weekend on Bodmin Moor in Cornwall over the weekend of the 11th – 13th July. 16 guys turned up from all over the country and we began the training with a Health and Safety briefing and the following aims.
There were two clear aims over the weekend.
Firstly, to provide us with an opportunity to get to know our volunteers a little better, while exploring their individual skills and potential for future deployment. Just as importantly, the course gave the volunteers the chance to get to know us, discuss plans for developing the charity and consider more fully their availability and commitment to operational deployment.
Secondly, we covered some important First Aid and Safety & Security training. Disaster relief operations are inherently risky! While the degree of risk will vary between countries and operations, there is the potential for safety and security incidents to occur during any future deployment. Equally however, it's recognised that many of the dangers facing humanitarian aid workers can be avoided, or substantially mitigated, by raising awareness, providing practical training and implementing good safety and security management protocols at every stage of an operation from pre-deployment planning to post-deployment review.
On the final day we carried out 4 training scenarios designed to consolidate the training carried out over the past couple of days. Scenario one was an aerial rescue (NPTC CS38) from a mature beech tree on the site and the provision of first aid to the injured climber. Scenario two was a RTC, involving a seriously injured casualty with a fractured pelvis and femur. Once the casualty had been extracted from the vehicle and stabilized, he was transported to the a suitable helicopter landing site using an improvised stretcher and prepared for medical evacuation by air. Scenario three was an illegal roadside check point in which the volunteers learned about how to respond to potentially violent situations. In the final scenario, each team was required to give an interview to a member of the international press.
RTC casualty extracted from vehicle and being stabilised before carried to landing zone for helicopter extraction.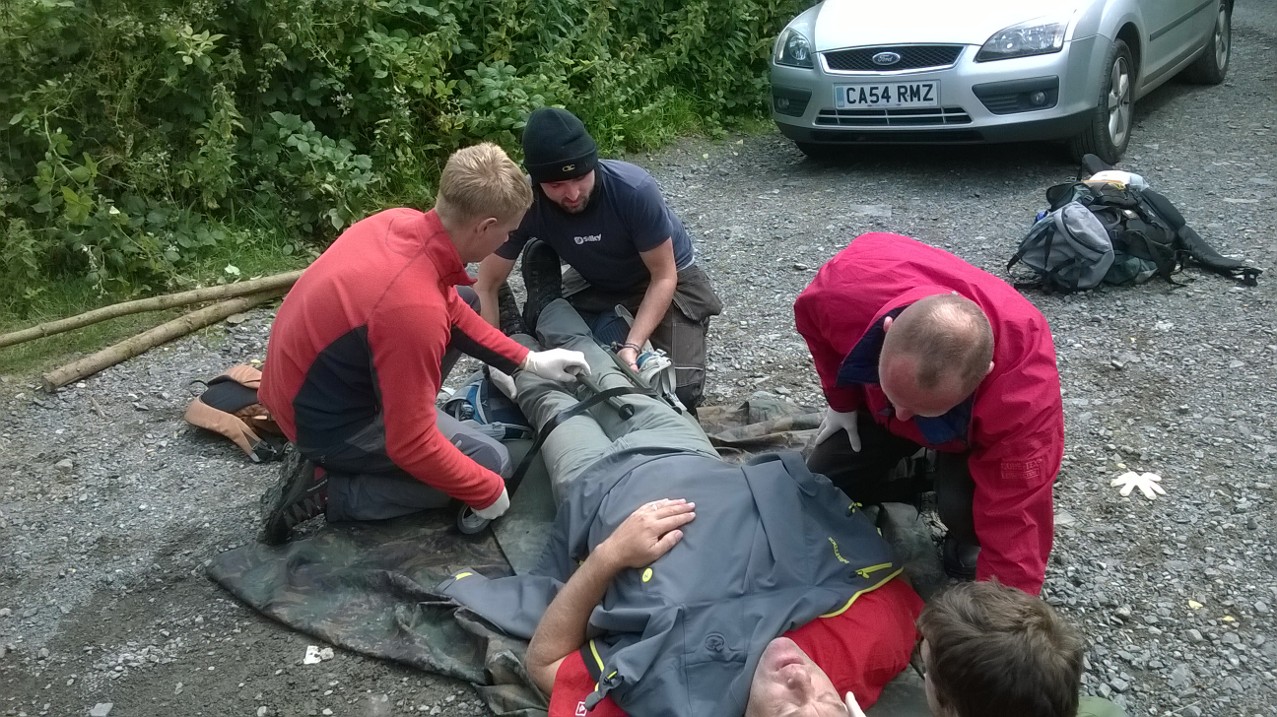 Responders experiencing security threats such as violent robbery, kidnapping and car-jacking.
Responders carrying out an aerial rescue (NPTC CS38) from a mature beech tree on the site